A Message for Our Shareholders and Investors
I hope all our shareholders are staying well and would like to express my deepest gratitude for your continual support of the Sumitomo Riko Group. We sincerely hope that the COVID-19 pandemic subsides as soon as possible and everyone can safely resume their lives.
In regard to our business performance in this consolidated cumulative second quarter, net sales were up on the same period last year due to a recovery in economic activity in many regions despite a downturn in automobile production caused by semiconductor shortages and the prolonged spread of the COVID-19 infections. Business profit largely proceeded according to plan in the first quarter, but reduced automobile production and the higher cost of steel and other raw materials have had an impact on the second quarter. Conversely, the printer and construction machinery markets steadily increased and produced an overall profit on the same period last year due to gains in the general industrial products.
While the second half will continue to be impacted by production adjustments caused by the semiconductor shortage, the higher cost of raw materials and other factors, we are revising our performance expectations for the financial year based on the production information and predictions currently available.
I kindly ask all shareholders to continue their support and understanding of Sumitomo Riko Group's corporate activities into the future.
Kazushi Shimizu
Representative Director and President & CEO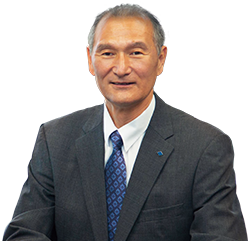 Kazushi Shimizu
Representative Director and President & CEO