Anti-vibration Rubber for Automobiles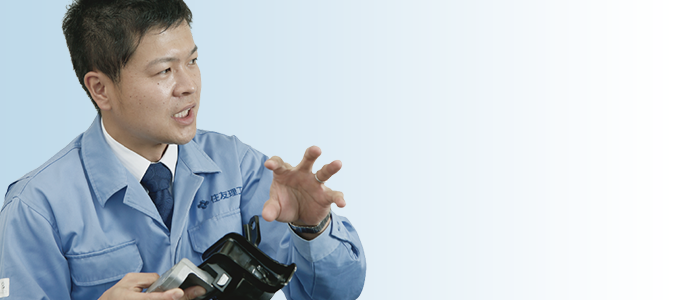 Anti-vibration rubber continues to evolve along with the automobiles it helps support.
For a safe and comfortable ride and to contribute to the environment.
Anti-Vibration Products Engineering Division
Automotive Anti-Vibration Business Headquarters
Hirotaka Matsui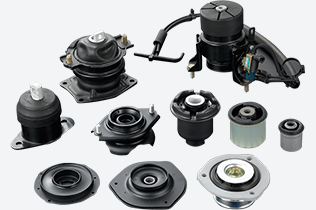 In one vehicle there may be 60 or 70 parts using anti-vibration rubber, including engine mounts and suspension parts on the chassis. Anti-vibration rubber has continued to evolve along with automobiles. A prime example is the Electrical Active Control Mount (E-ACM). The shaking of the engine is examined as waveforms by computer, and then by transmitting the reverse phase electro-magnetically, the vibrations can be canceled. There will be demand in the future for products that can stand up to any kind of environmental conditions. Saving fuel by reducing weight is just one of the contributions we can make. We will tirelessly continue our research and development to bring you both a safe and smooth ride and contribute to the environment.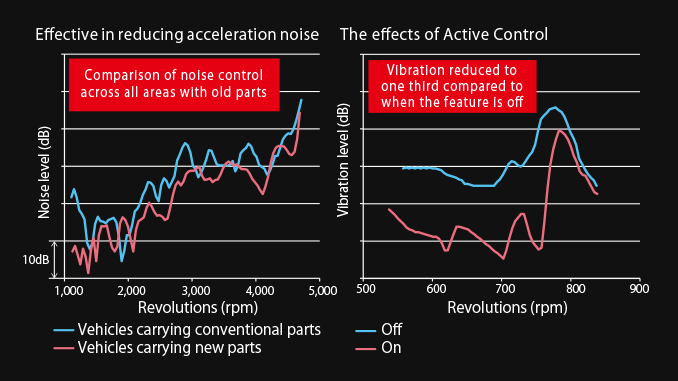 Development of Anti-vibration Rubber with Dramatically High-performance
This is a graph showing a comparison between the noise during acceleration of a vehicle using the new parts and old parts (on the left), and a graph comparing the vibration control effect when Active Control is on and when it is off (on the right).
Biohydrin Rubber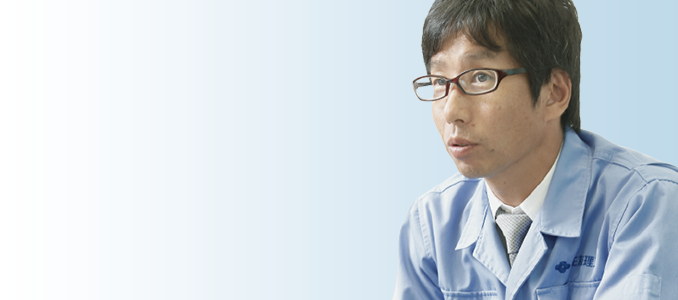 Overcoming a variety of hurdles
on the way to commercialization.
General Manager,
Engineering Division,
Automotive Hose Business Headquarters
Kazushige Sakazaki
Many people questioned the profitability of the concept when we were looking at productization, because there were not even any biomaterials available in the market. Furthermore, as well as making them the same as petroleum-based materials, we had to go through a lot of effort to prove that they were absolutely the same. Biohydrin rubber is used in the vacuum sensing hoses in domestically produced Toyota Motor Corporation. We are currently proceeding with the development of materials to use in parts that work under more severe conditions, such as brake hoses and fuel hoses.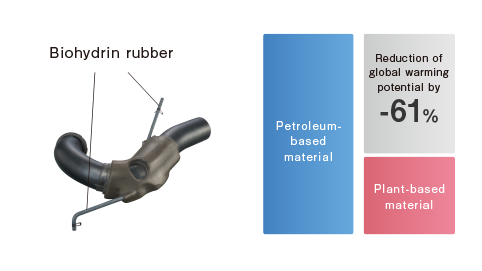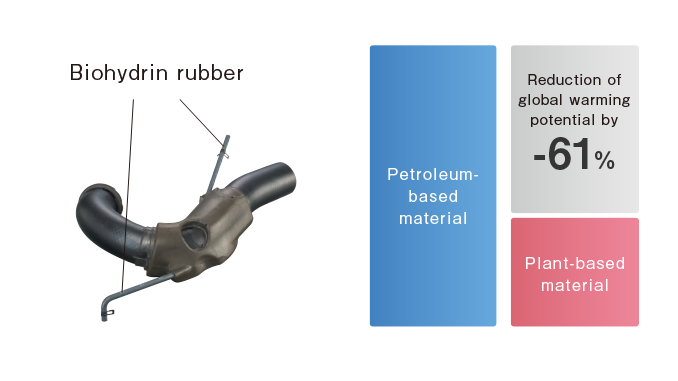 *Reduction at the raw materials production stage
Environmentally Friendly Rubber from Plant-based Materials
Automotive hoses require high degrees of oil and heat resistance, and as such have been made with petroleum-based materials. Biohydrin rubber is being developed by Sumitomo Riko in partnership with Toyota Motor Corporation and Zeon Corporation. It is a synthetic rubber composed of a variety of compound technologies that bond plant-derived materials with petroleum-based materials at the molecular level. It maintains the same levels of durability and resistance to oil and heat as conventional petroleum-based hydrin rubbers. The further benefits of this is that the raw materials are plants which absorb CO2 from the atmosphere as they grow, and with the reduction in power consumption during the production process, when compared to the manufacturing process for conventional products, the life-cycle carbon emissions are reduced by about 20% between production to disposal.
Seismic Control Engineering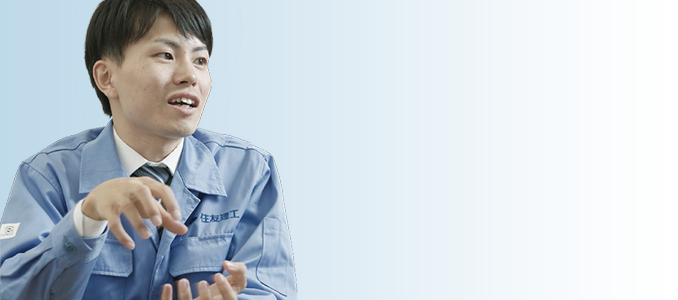 Sumitomo Riko is the driving force in the new technology of seismic control,
born of necessity in earthquake-prone Japan.
Industrial Products Business Headquarters
Industrial Products and Materials Business Unit
Anti-Seismic and Seismic Control Device Engineering Department
Engineering Section No.3
Yosuke Kawabata
In Japan, where earthquakes are common, the possibility of a massive earthquake occurring sometime in the future is quite high, so measures to protect against earthquakes are absolutely necessary. There are three types of measures that can be taken; earthquake resistance, seismic isolation, and seismic control. Earthquake resistance means making the entire building stronger so that it can resist the shocks from earthquakes. Seismic isolation means separating the building from the ground using seismic isolation devices to make it harder for the shaking of the earthquake to reach the building. And finally, seismic control is the system of installing dampers in walls to absorb vibrations to reduce the shaking of the building. It is this method that Sumitomo Riko is putting the most energy into. Seismic isolation involves high costs, and there are cases where it is not suitable due to the ground. Seismic control works irrespective of the ground and buildings can be provided for much less money, and right now it is gaining a lot of attention.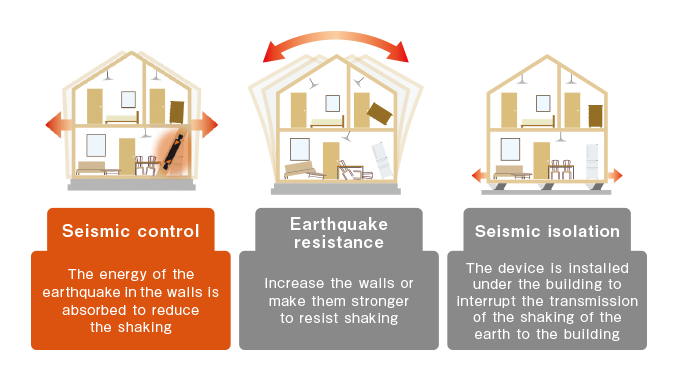 Taking the World-class Anti-vibration Technology Develop over Years in the Automotive Field and Applying It to Seismic Control Technology in Construction
Making the most of its core competencies, polymer materials technology and comprehensive evaluation technology, Sumitomo Riko has gained a strong reputation for providing world-class anti-vibration technology to the automotive field. Furthermore, we have seen massive growth over the last few years by applying the technology and know-how we have developed to earthquake measures. Our dampers not only absorb repetitive shaking, they are also low cost.
They have been developed using the best anti-vibration technology in the world and have great potential to provide solutions in the housing sector. We anticipate Sumitomo Riko's seismic control devices will be broadly used across the market.
Application of Anti-vibration Technology to Railway Rolling Stock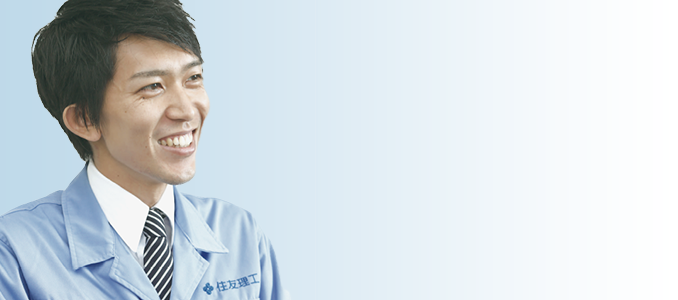 The pursuit of safety and comfort is what we do.
Industrial Products Business Headquarters
Industrial Products and Materials Business Unit
Engineering Department
Engineering Section
Kento Tamaki
The anti-vibration rubber is used in the truck parts which support the carriages of railway rolling stock, including Shinkansen. In the passenger carrying parts of the carriage above there are regulations about using fire retardants and inflammable materials, but these standards are relaxed for the trucks. Sumitomo Riko, however, prepares for any situation, developing materials with flame retardant properties so that we clear even those standards. Rubber is a material whose physical properties are easily changed by temperature. Overseas there are places with extremes of cold and heat not found in Japan, so we have established our own design parameters that anticipate use in a range of environments, and we develop products that also clear these conditions. The people riding in the carriages do not see the anti-vibration rubber. But I believe that it is one of Sumitomo Riko's principles to pursue the safety and comfort of users, even when they are unaware of our efforts.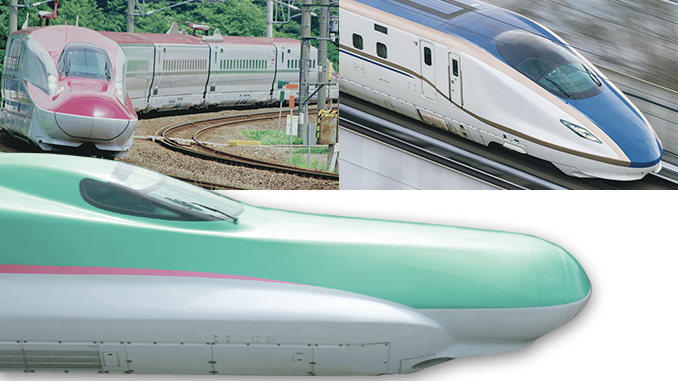 Taking the Next Step in Evolution with the Technology Developed in the Automotive Field
The anti-vibration technology used in railway rolling stock is indispensable for safety and comfort, but another important property is environmental credentials. There are stringent checks into the materials to confirm that there are no substances of concern that can damage the environment, with the entire life cycle of the product examined from development through to what happens after they are replaced and disposed of. Furthermore, durability is a property that is most sought after by railway operators. That is, they need us to lengthen the life cycle of our products. We have had requests to almost double conventional durability, and this voice is growing. By increasing the life cycle of the part, you decrease the costs of maintenance. Furthermore, in order to respond to the demand for decreased weight, we are taking steps to use resins and other materials other than metals, with the aim to use these also in rolling stock.
Smart Rubber (SR) Sensor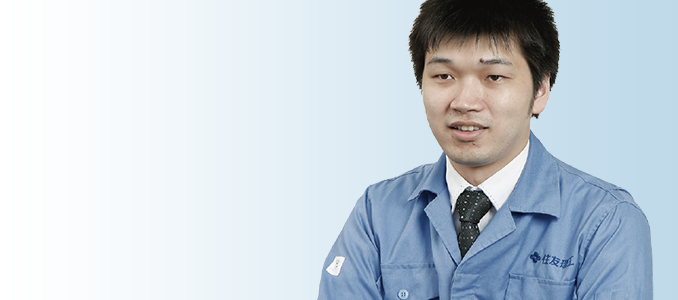 Aiming to build a society
that can save as many people as possible.
Advanced Systems R&D Center
Yota Kokubo
"Shinnosuke-Kun" is a cardiopulmonary resuscitation training support system. It is an application of the "Smart Rubber (SR) sensor" that evaluates depth and rhythm, feeding back in real time to raise the quality of training. Major features include the ability to make visual the position pressed and the ability to train on stretchers. Because the size and shape of peoples hands differs, we had a lot of trouble when developing the device trying to improve the precision of the conversions from pressure values to the depth of the press. We sincerely hope that "Shinnosuke-Kun" can improve the application of cardiopulmonary resuscitation so that more people can be saved.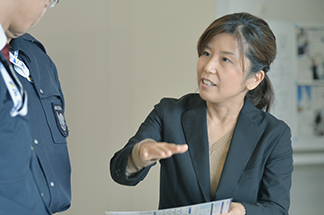 Health and Nursing Care Products Business Unit
Sanae Usami
We have received good feed back from professionals and normal citizens, saying that we have helped them learn how to better apply cardiopulmonary resuscitation. I am particularly pleased to be able to contribute to society through encouraging the wider use of our device.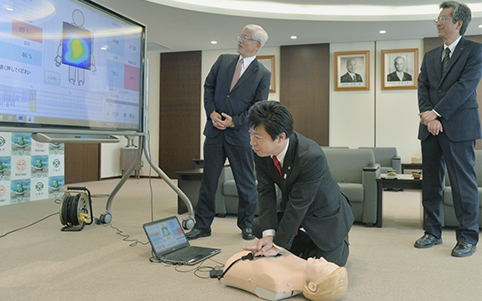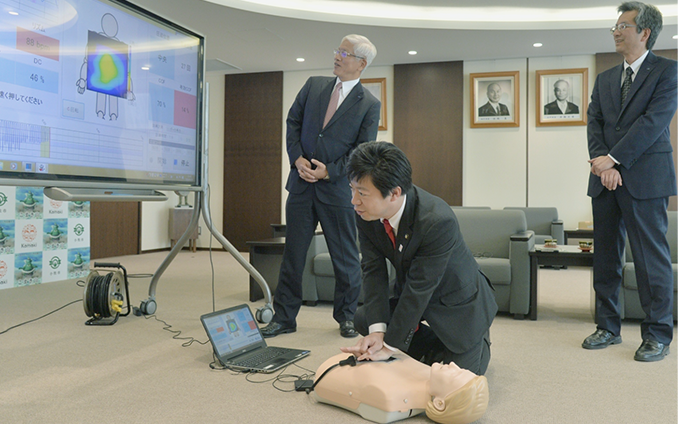 Mayor Shizuo Yamashita using "Shinnosuke-Kun" in a demonstration
Exhibited at the Komaki Industrial Festival in Aichi. Even the Mayor of Komaki-shi is Singing the Praises of "Shinnosuke-Kun"
At the Komaki Industrial Festival held in Komaki-shi, Aichi, we presented "Shinnosuke-Kun" at the Sumitomo Riko booth. In his opening address, the mayor of Komaki-shi, Shizuo Yamashita, announced that he himself had given heart massage. It was due to his training on "Shinnosuke-Kun" just prior that he felt he was able to perform cardiopulmonary resuscitation competently, he said, and emphasized the importance of daily training and encouraging the citizens of Komaki-shi to all try "Shinnosuke-Kun".